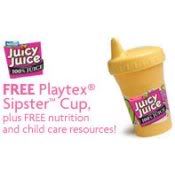 I don't know about you, but we go through sippies like crazy. Either they are "lost" and then found months later jammed into dresser drawer, or broken when used as a bat in an impromptu indoor game of baseball. Clearly, there is never a dull moment at our house. If you register at Juicy Juice's website, you will receive a FREE sippy cup. I registered for this months ago and received it only 2 weeks later, so you will definitely get it, and hopefully fast.

Click here to register for your free cup!

~~~~~~~~~~~~~~~~~~~~~~~~~~~~~~~~~~~~~~~~~~~~~~~

Also, you can receive a FREE work-out towel from Self Magazine by mailing a receipt showing purchases of 2+ Garnier Fructis products. I got 5 FREE Garnier Fructis products last week from Walgreens, so I'll definitely take advantage of this. Not that I work-out ever, but hey, I could always use an extra towel to mop up the various spillages that occur.

To get your free towel, mail in your receipt to:
Self Magazine - Garnier Gift - March
4 Times Square, 5th Floor
New York, NY 10036
Attn: M. Catapano.

This offer expires on April 6, and is only good while supplies last.
~~~~~~~~~~~~~~~~~~~~~~~~~~~~~~~~~~~~~~~~~~~~~~~
One more! Click here to receive a FREE Epson t-shirt. Just fill out the registration form and use this code "B75H."