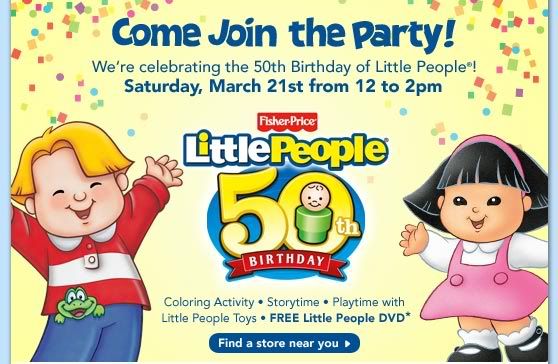 **EDIT** In addition to getting a FREE DVD, you can also get a FREE Thomas the Train! I can't even tell you how happy that will make Bubba. He can add it to his collection of 500 + trucks, trains, planes, etc. Click here to print out this coupon (thanks to Freebies4mom for the coupon link).
We are big on Little People in our house. Boo calls them "my kids" and likes to line them all up for storytime. It's cute moments like those that convince me I should keep her for at least a few more years. Tomorrow, March 21st, from 12:00 to 2:00, there will be a 50th birthday celebration at Toys R Us, and the activities include coloring, storytime, playtime, and a FREE Little People DVD.
I will be busy but I'm going to do my best to try to talk the hubby into taking Boo and Bubba. I'll let ya know how that talk goes.
Click on the cute Little People picture above for more info.