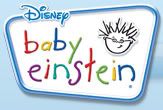 If you read my "About Me" post, you know that the only debt we currently have are our student loans. That's something we are pretty darn proud of despite the fact that the amount we owe is nauseating. My stomach just turned. Anyways, hubby and I were just talking about what we are doing for Boo and Bubba's future college educations, and what the best approach would be to tackle those costs. Personally, I'm keeping my fingers crossed for scholarships.
Just in case that doesn't happen (and I don't see why it won't ;-), winning Baby Einstein's $1,000 Savings Bond giveaway sure would help! You have from now until April 30th to enter their sweepstakes. The prizes are as follows: 1 grand prize of a $1,000 Savings Bond; 1 first prize of $100 of Baby Einstein products; and 3 second prizes of $50 of Baby Einstein products. And for every friend you refer, you will receive 1 additional entry into the Sweepstakes, up to a maximum of 5 additional entries.
Click
here
to enter, and good luck!