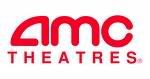 AMC has a new promotion where you can watch any new release any day of the week for only $4 to $6 depending on the theatre and market! Click here for more info =)
(Thanks Frugal Coupon Living!)
And don't forget about the other great summer movie promotions I posted about here and here!