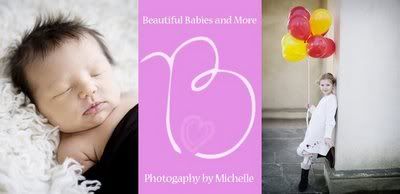 ~Philadelphia Area Moms~
I was fortunate enough to meet Michelle on the pregnancy board I joined when pregnant with Boo. Imagine my surprise when we realized we not only lived in the same town, but less than 2 miles away from each other! I am SO lucky that she is nearby because she is an awesome friend, and has been my local mommy crutch. And I should probably mention that she is a flippin' awesome photographer. She has taken pictures so many pictures of our family, and has documented some really special moments.
She has an amazing website, Beautiful Babies and More, and just revamped her blog. In honor of her brand new blog, she is having a contest where the winner will receive a photo session and print package valued at $365! This is for new customers only, and to enter the contest all you have to do is email her a recent snapshot of your 6-36 month old child, and the pertinent info. She will post all of the pictures on her blog and whichever child receives the most votes will will the package =)
You seriously want this prize! Click here for more info on her contest.