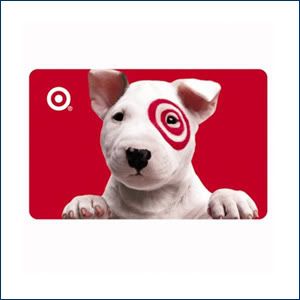 It's been almost two weeks since I started my blog. I've been having a lot of fun with it, and although I'm a lot busier now, it's fun busy. Saving money has always been an obsession of mine so it's great to be able to share it with others. For kicks and giggles, I added a blog counter four days ago, just to see if anyone else was reading besides me and my mommy friends (hi guys!). Imagine how pleasantly surprised I was today when I reached 100 unique visitors! That may seem like small potatoes, but I'm grateful for every reader I have whether it be 10 or 100.
So to show my appreciation, I thought I'd have a small giveaway, just as a way to say thanks for reading. It will end at 11:59 p.m. on Tuesday, March 31st, one week from today, and the prize will be a $10 Target giftcard. You have 4 ways to enter:
(1) Leave me a comment to THIS post.
(2) Blog about this giveway with a link back to my blog, and then leave me a comment with the URL to your post.
(3) Follow my blog, or subscribe to my blog by email or RSS feed, and leave me a comment letting me know.
(4) Email a friend about my blog and/or giveaway, CC me at frugalityisfun (at) gmail (dot) com, and then leave me a comment!
Thanks again to everyone!