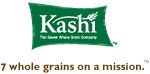 I'm seriously in love with all Kashi products. My favs are the Mayan Harvest Bake (which I got for FREE by signing up for a coupon), and the GoLean Crunch cereal. I definitely love when I can find coupons for any Kashi product. So you can imagine how ecstatic I am that there are not 1 or 2, but 3 printable coupons for Kashi products on coupons.com! Here they are in all their glory:
$1.50/2 Kashi TLC Snack Bars
$1/1 Kashi Honey Sunshine Cereal
$1.50/2 Any Kashi cereal
These coupons have print limits so hurry up and print them now! Please =) They can be found in my coupon.com widget on the right-hand side of my blog.