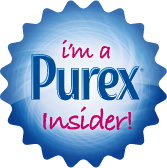 Thanks to everyone who entered my Purex giveaway! I hope to be hosting more product reviews and giveaways in the future. Even though this blog focuses mostly on frugal steals and deals, I'd love to be able to pass along product info to other people. It's true that I love a good deal, but I love a quality product even more!
So without further ado, here are the winners:
Here are your random numbers:14 5 11
Timestamp: 2009-05-13 13:44:18 UTC
#14: cksknitter said...
I signed up as an e-mail subscriber!
#5: The Hansens not in Germany said...
I would love to try 'em!
#11: Erin said...
Awesome product!! I want some!
I have all of your email addresses so I will enter them at the Purex Insiders website. And as promised, I will send (4) Kashi Waffles coupons to the first four people who commented: Renee, Katie, Rebecca, and Sharon. If you email me your address, I will send those out! Please email them to frugalityisfun (at) gmail (dot) com! Thanks!!